Wheelchair Accessible Vehicle Evolution
Independence for the impaired has been a commodity for most of our history and the need for transporting people with limiting physical disabilities is dabbled throughout history. Being handicapped has the possibility of limiting self-sufficiency and can make travel demanding, so inventors have been constructing creative applications to transport wheelchair users for centuries. Standard vehicles aren't fit for mobility devices. Therefore, accessible vehicles come in all shapes and sizes, but the push toward convenience and accessibility seem to be two of the main priorities.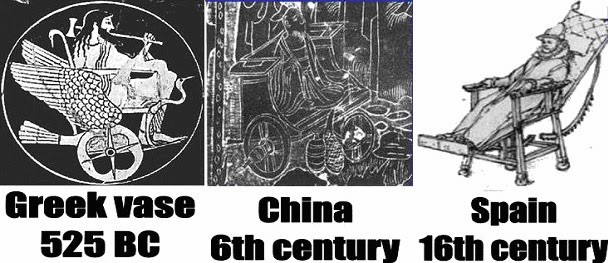 In 525 C.E., images of wheeled chairs made specifically to carry people begin to occur in Greek and Chinese art. The pictures depict people being carried around in what we would think of as a modern-day wheelbarrow. Transportation for the disabled didn't exist in Europe until 1595 A.D. when a Flemish Nobleman from Spain built one for King Phillip II. King Phillip's chair didn't have an efficient propulsion mechanism and required assistance to make it move. This made the design more equivalent to a portable throne than an actual wheelchair. Made with wood, leather, iron, and a comfortable footrest; this device was made for lifestyles of the rich and lazy and not of the elderly and disabled as we think of it today.
Portable throne, anyone!? Let's be honest, we all know that one person who uses their chair in questionable ways... right? Here in Alabama it's always a guy who engineered a wheelchair cupholder to hold his drink while he tows a 2X4 behind him tethered by a chain attached to the seat base.
King Phillip's chair was designed especially for him, but advances in the evolution of the wheelchair were more specifically designed and built by the people who needed them. In 1665, Stephen Farfler, a 22-year-old paraplegic watchmaker built himself an invention that consisted of cranks and cogwheels to propel himself using his own power. Because he was a watchmaker, his extensive knowledge of how cogs and cranks play together helped him create the world's first chair that could move by the user's own propulsion.
Although Farfler's invention provided much needed independence to the disabled, During the mid 1700's to mid 1800's, John Dawson of Bath invented a three-wheeled covered chaise that was pushed from behind and steered by a long rod connected to the front wheel. The occupant would have guided the direction of travel and would be propelled by another. This type of chair was extremely popular during Victorian times and was often used at the seaside and resorts. It also carried the sick from their lodgings at the spa and the rich and famous about their business in the city. It wasn't until 1869 when a patent was taken out on a wheelchair that could be self-propelled and had large wheels at the back. Wheelchairs were starting to get less bulky but still were not easily transportable until the 1920s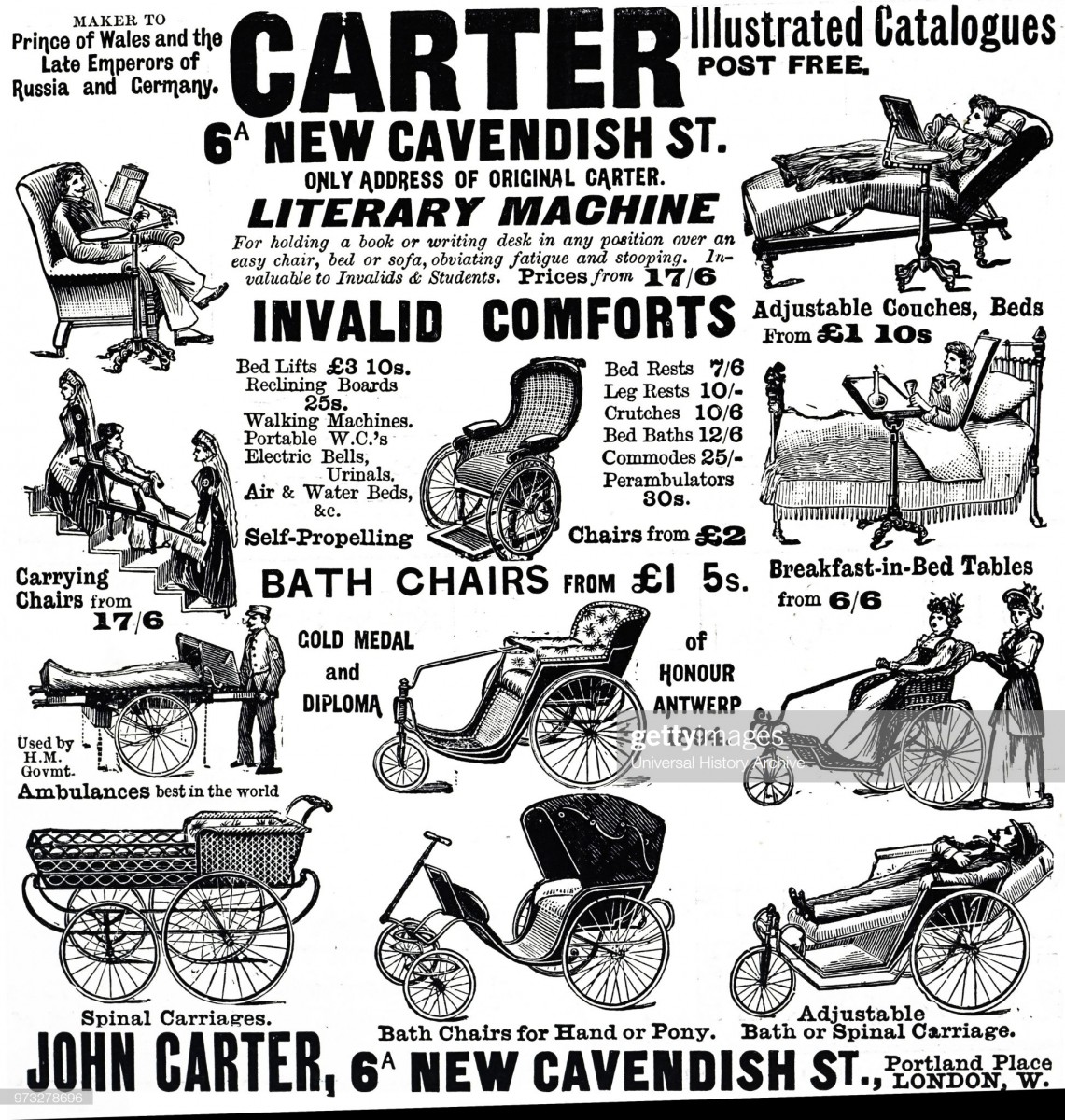 In the 1920's, the Invalid carriage was developed and was the successor to both Farfler's cog machine and the Bath Chair. Usually single-seater road vehicles, buggies, or self-propelled vehicles for disabled people, Invalid Carriages were generally powered by a small gasoline/petrol engine, although some were battery powered. They were usually designed without foot-operated controls. Steering was by means of a tiller connected to the front wheel. The tiller also provided speed control. Forward or reverse by a separate control. They were low-cost low-maintenance vehicles, designed specifically for people with physical disabilities.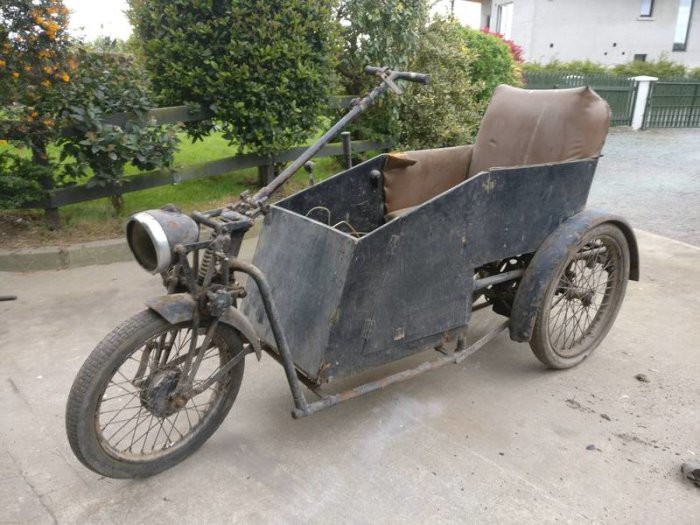 Doesn't it look like something out of the movie Mad Max?
Early versions of hand controls for standard cars consisted of various levers with mechanical linkages to the gas, brake, and clutch pedals. Hand controls of the 1930s and 1940s weren't user-friendly and were quite dangerous to operate. Driving an automobile with a manual transmission entirely by hand meant juggling levers for clutch, brake, and throttle with one hand while steering with the other. In 1933, De Soto (an American automobile company named after the Spanish Explorer) delivered a convertible sedan to President Roosevelt at the White House. Since Roosevelt was left permanently paralyzed from the waist down after being diagnosed with Polio, the car was outfitted with special hand controls that enabled Roosevelt to drive without using his legs and gave him the freedom to drive despite his disability. DeSoto did not alter other factory-installed controls except removing the gas pedal. The clutch and brake were left intact for the convenience of drivers accustomed to conventional controls.
In 1948, Bert Greeves adapted a motorcycle into a powered wheelchair with the help of his paralyzed cousin, using an engine from a lawnmower. He developed it into a commercially viable vehicle after noticing the number of former servicemen injured in the Second World War and founded the Invacar. Early vehicles were powered by an air-cooled 147 cc engine, but when production of that engine ceased in the early 1970s it was replaced by a much more powerful 4-stroke 500 cc or 600 cc engine, giving a reported top speed of 82 mph.
After the end of World War 2, General Motors and Ford both modified cars for disabled veterans and soon thereafter, civilians. Cars with automatic transmission were modified with various hand controls, steering wheel spinner knobs, extensions, or alternate pedal configurations to accommodate the needs of disabled drivers. The modified controls accommodated drivers with paralysis, missing limbs, and limited mobility in the arms and hands. Some of the modifications included a
left foot gas pedal
,
spinner knob
, power windows, and
extensions on secondary controls
such as turn signal lever and emergency brakes. In 1952, Alan B. Ruprecht applied his background in engineering and metalworking to develop a hand control that was easy to install, fit any automobile, was interchangeable and could be mass-produced. Before Ruprecht's hand control, most controls were custom made to fit one automobile. He founded Drive-Master and his invention became known as the Drive-Master
Push Pull Hand Control System
. After hand controls, Drive-Master began manufacturing left-foot gas pedals for those who needed to drive using only the left foot and to accommodate drivers whose legs could not reach conventional pedals, the company developed pedal extensions.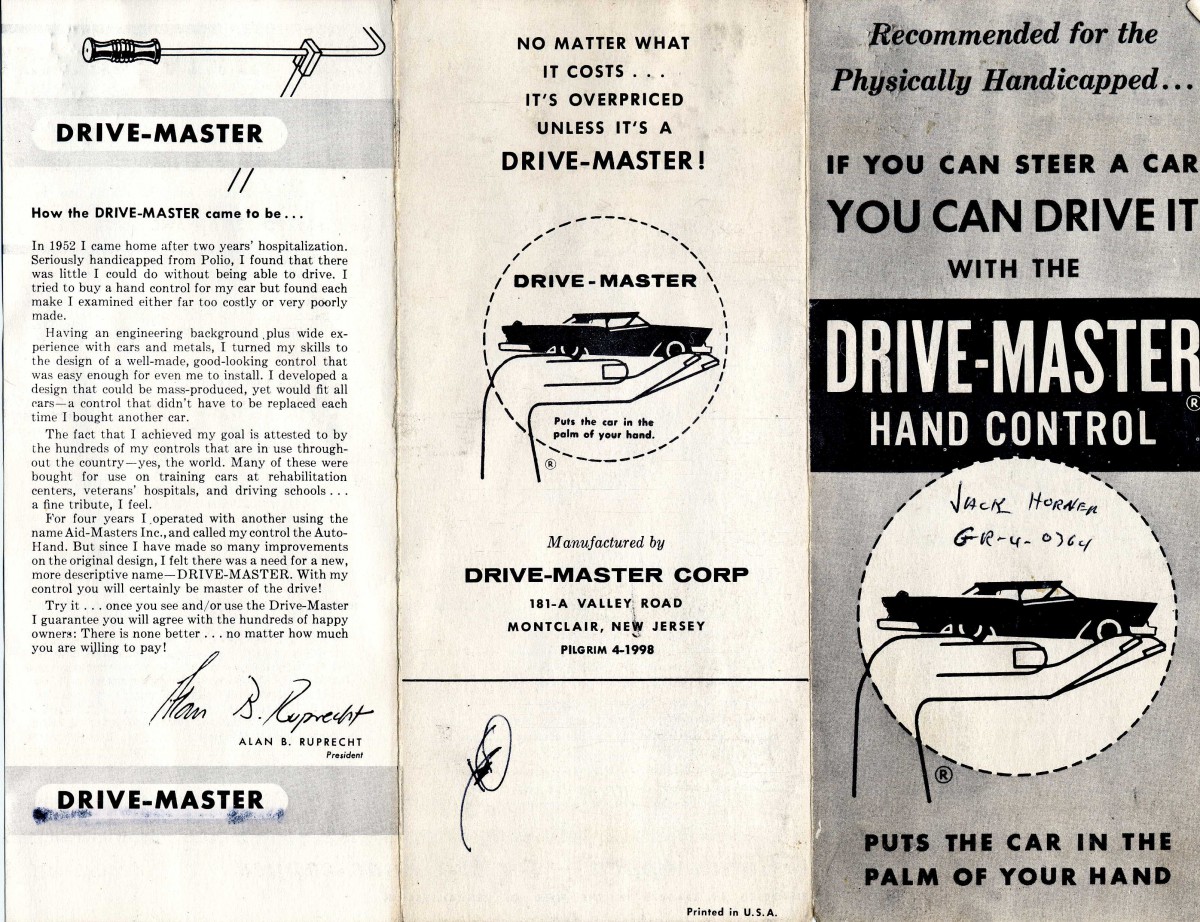 In 1963, Ralph Braun, who was diagnosed with spinal muscular atrophy and was unable to walk by the age of 15, brought forth the first four-wheeled
mobility scooter
. Starting with the frame from a small four-cylinder car, he chopped the front end down to 24 inches and added the electric motor from a kid's car, two six-volt batteries, a lawn mower differential, four wheelbarrow tires, and a kitchen chair. Adding a mixture of unrelated parts and makeshift wiring, Ralph Braun finished his wheelchair. It was loud, smelly, lacked a reverse gear, and had no brakes. Looking to improve his invention, Braun began building new and improved Tri-Wheelers for others and founded his first business, the Save-A-Step Manufacturing Company.
In the late 60's, a
rotary lift
was developed and manufactured by Drive-Master, the makers of the Push Pull Hand Control System. When Alan B. Ruprecht, founder of Drive-Master, became more dependent on a wheelchair for mobility, and transferring into a car became a major obstacle, he converted a van for driving from his wheelchair. Without any floor modification, only smaller drivers were able to drive from their wheelchairs. Thus, Drive-Master soon developed a power pan, which is still manufactured, to lower taller wheelchair drivers into the appropriate position to drive. With the help of GM engineers and guidelines from the VA, horizontal steering, low and zero effort steering and braking, and backups for these systems followed.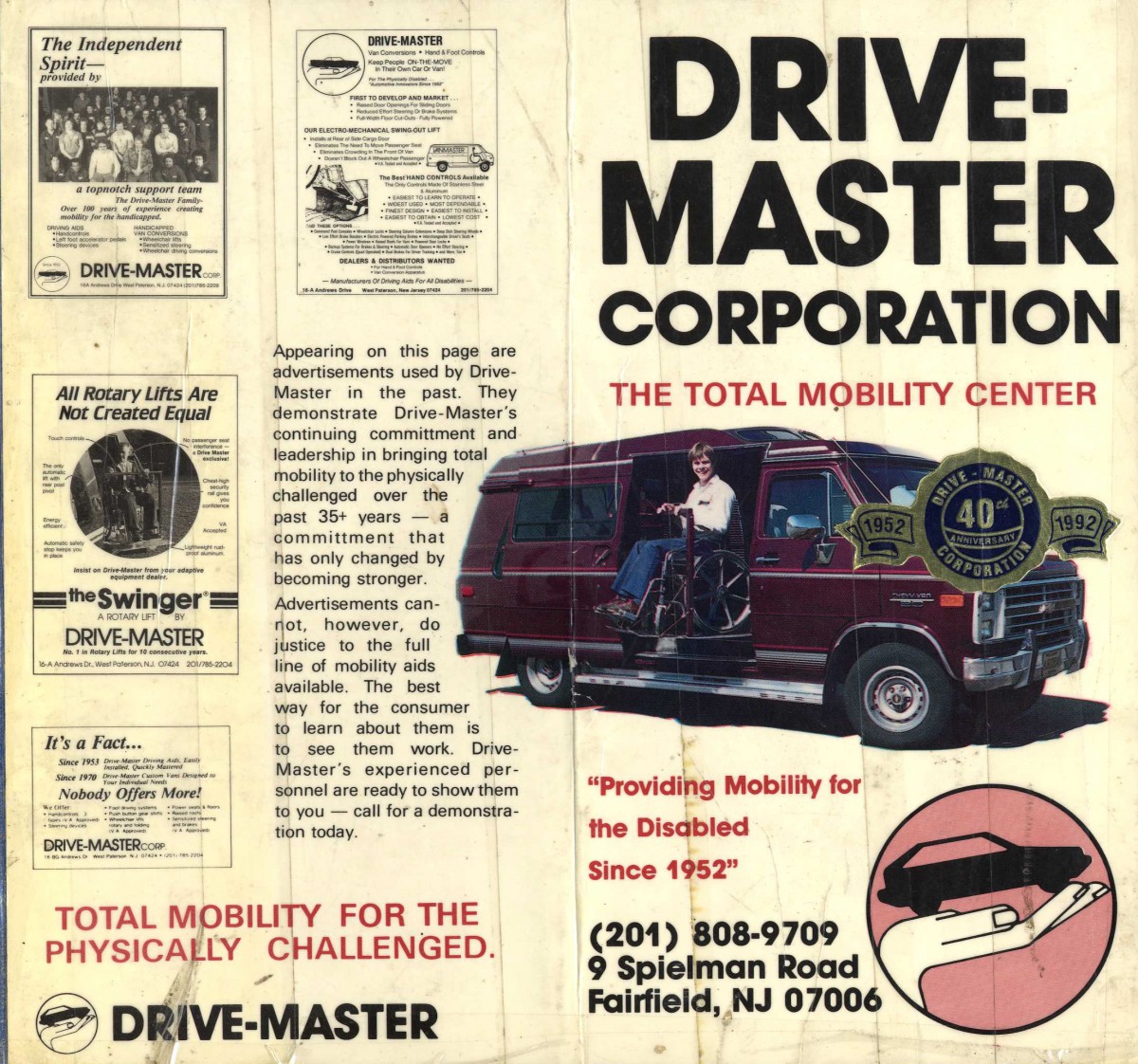 In 1984 Chrysler came out with the minivan and the world of wheelchair accessible vehicles exploded into creation. In 1987,
VMI
introduced their first wheelchair-accessible Chrysler minivan. They created easier access by dropping the floor and installing a wheelchair ramp system. Ralph
Braun's
team also developed a process of lowering the floor rather than raising the roof and installing lifts as they had been doing with full-sized vans. In 1989, the Chariot was brought forth, which allowed users to drive their wheelchair straight to the inside the vehicle. The Chariot could travel at speeds up to 40 mph and could cover up to 70 miles on one tank of gas.
In 1989,
NMEDA
membership opened to mobility dealers on a national scale and the National Mobility Equipment Dealers Association was established to safely drive or ride in specially adapted vehicles. In 1990 the Passage of the Americans with Disabilities Act mandated access to any space where the public was allowed. This was a major triumph for the disability rights and independent living movements, which facilitated the widespread use of curb cuts, wheelchair ramps, elevators, wide doorways, and accessible bathrooms. This unprecedented adaptation to the built environment, combined with changing attitudes about the abilities of the disabled, caused a boom for the mobility equipment industry.
In the 90's, The
Braun
Corporation developed its flagship wheelchair accessible ramp enabled minivan, the Entervan. Around the same time, Anthony van Dillen, the founder of Freedom Motors, brought the rear-entry wheelchair van concept over from the Netherlands and once again the way we look at mobility was redefined.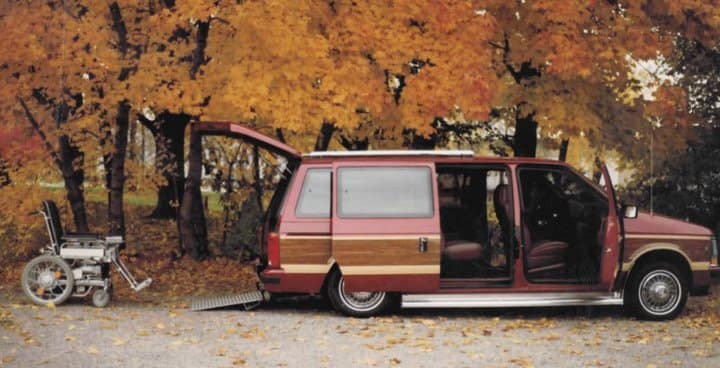 The first
MV-1
rolled off the line in October 2011. The MV-1 was the first production-made purpose-built vehicle in North America constructed from the ground up for people with disabilities. It seats up to six adults, with two full-size wheelchairs. Chairs are allowed entry via an ADA-approved ramp, able to carry 1,200 lb (544 kg) and which stows under the vehicle's floor. The rear doors are 36 inches wide and 56 inches tall, to accommodate bulky wheelchairs. Although this vehicle is no longer in production, used vehicles with low mileage are still circulating and can be found for sale.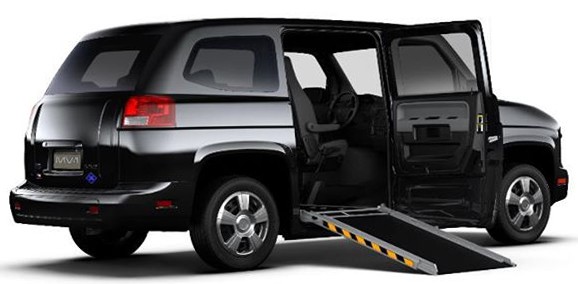 More recently, Braunability, VMI and ATC have been converting SUVs (and trucks!!)
All of these products have revolutionized what independence means to wheelchair users while maintaining a push toward convenience and accessibility.
Where will we go from here?