HUGE SAVINGS!!! For a limited time only you can get the NEW Bruno Out-sider ASL-275, Swing-Away, Securement Arm, & Installation at an all time low price!!
The MSRP on this package is normally $4,392.70 but from September 1st - October 31st we will be offering this at a low price of $2,899.00!!!! *
Code: Fall19
CALL NOW to take advantage of this offer. 256-751-1365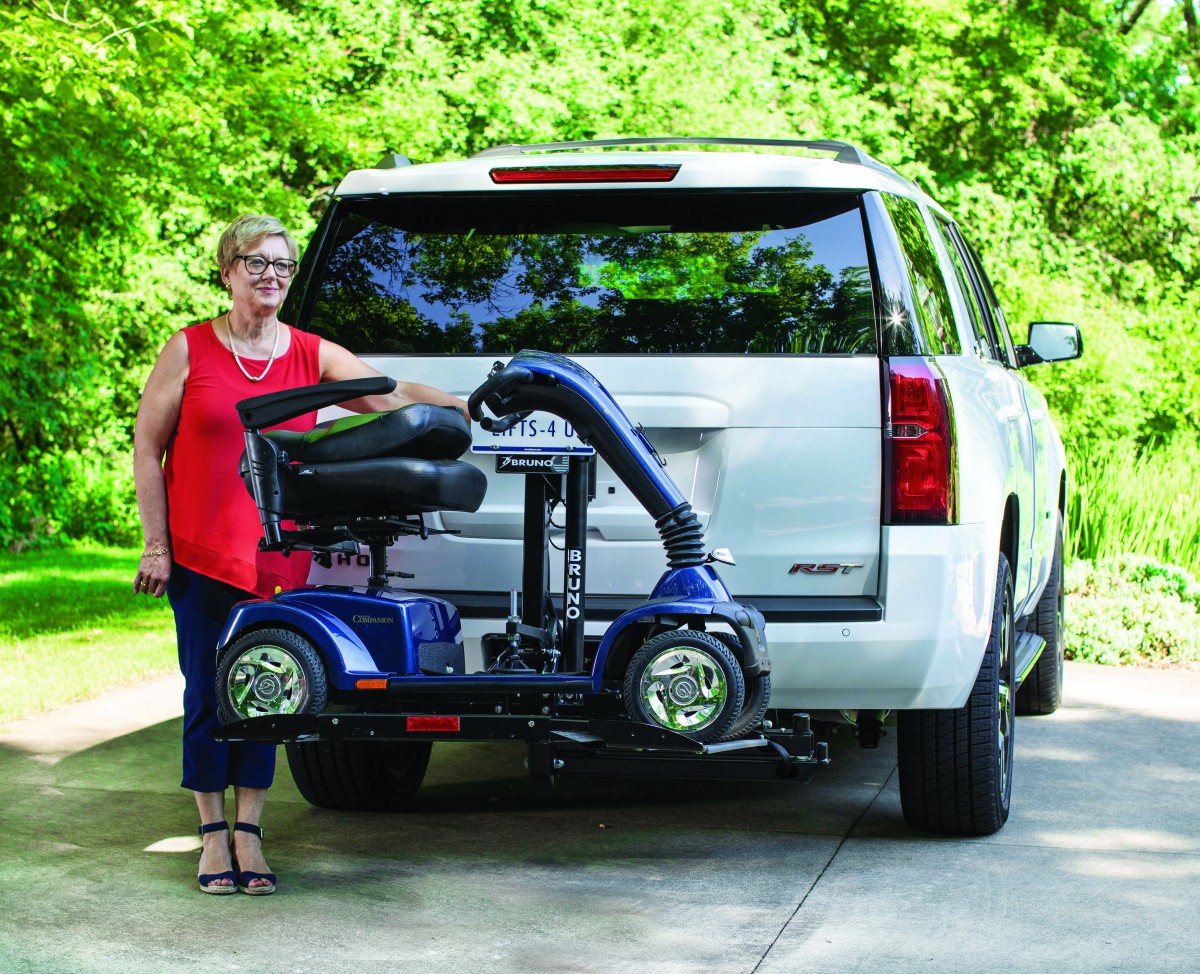 ---
Bruno Outsider ASL-275
Bruno Out-Sider Scooter Lift Highlights
Fully Powered - Makes lifting and storing your scooter or powerchair outside your vehicle virtually effortless - one button operation
Smooth drive on/off platform - no reversing necessary
Platform automatically folds up when not in use
Scooter with Hold-Tite foot or Powerchair with Hold-Tite arm are automatically secured when lift is raised
Version with retractable belts for securement also available
No scooter or powerchair modifications
Operating handle includes intuitive up/down switch orientation, while maintaining Bruno's industry exclusive safety latch for unintended lowering
Swing-Away option available for rear hatch access
Manual Backup System and standard lighted License Plate Holder
Lift powered by the vehicle's battery
No structural modifications to your vehicle - mounts to your vehicle's class II or class III hitch receiver (not included)
Works with minivans, SUVs, CUVs, pickup trucks, full-size vans and sedans (check with your local Bruno dealer to confirm compatibility with your vehicle)
Bruno Out-Sider Scooter Lift User Requirements
Walk from the front to the rear of the vehicle and vice versa
Stand two to three minutes
Drive mobility device on/off platform
Hold down a button on the control arm
Securement:
For Automatic Hold-Tite for Scooters version, there are no additional requirements
For Automatic Hold-Tite for Powerchairs version, release and swing arm into position (one handed operation)*
For Retractable Belts version, lean over to hold release lever, then connect hook to receiver on powerchair or scooter.
If using a Swing-Away, lean over, release lever, and swing the lift away from the rear of the vehicle*
Brun Out-Sider Scooter Lift Specs
Lift Capacity: 350 lb/159 kg
Platform Width: 28.5 in (72.4 cm)
Max. Mobility Device Width: 28 in
(71 cm outside of wheel to outside of wheel)
Max Mobility Device Wheelbase: 38 in (96.5 cm)
Hitch Class: II or III*
Vehicle Type: CUVs, hatchbacks,
minivans, pickups, sedans, SUVs, full-size vans
*Receiver hitch required
Install Weight: 26 lb/20 kg (including hardware and hitch adapter)
Hitch Class: II & III
Vertical Adjustment: 7"/17.8 cm to 19"/49.5 cm
---
*before taxes
Terms and Conditions:
This coupon is not valid for repair services, portable or automotive ramps, non-electric carriers, used equipment or parts and accessories. Cannot be used with any other specials, discounts or promotions.